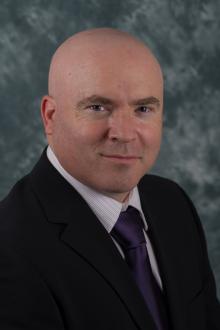 Email
kieron.meagher@anu.edu.au
Phone number
+61 2 612 59535
Office
Room 2012, HW Arndt Bld (25A)
Research areas
Game Theory
Political Economy
Industrial Organisation
Computational Economics
Microeconomic Theory
Applied Microeconomics
Biography
Kieron Meagher received an MA (Hons.) in pure mathematics from Waikato University and a PhD in Economics from the Australian National University. Kieron's research is focused in the fields of Industrial Organization, Organizational Economics and Political Economy and he has published in a number of international journals including the Journal of Economic Theory, Economic Theory and the Journal of Economic Behavior & Organization. His research interests include decision making and management in firms; spatial competition, public-private partnerships, the political economy of infrastructure investment and the formation of political parties.

He is one of the authors of the government funded, Society for Knowledge Economics report on High Performing Workplaces.

He has consulted for Woolworths on regulation issues and for Telstra on telecoms policy.
Selected Publications
ARTICLES

[1] Meagher, Kieron, (2012) "Optimal Product Variety in a Hotelling Model", Economics Letters, Economics Letters, 117(1), pp. 71-73.

[2] Meagher, Kieron, Arghya Ghosh and Ernie G.S. Teo (2011) "Integration of Asymmetric Nations", The Economic Record, Vol. 87, No. 277, June, 221-234.

[3] Meagher, Kieron and Zauner, Klaus G., (2011) "Uncertain Spatial Demand and Price Flexibility: A State Space Approach to Duopoly", Economic Letters, 113(1), October, pp. 26-28.

[4] Meagher, Kieron and Stephen Whelan, (2011) "Confidentiallity is Not Enough: : Framing Effects in Student Evaluation of Economics Teaching", International Review of Economics Education, 10(1).

[5] Meagher, Kieron, Ernie Teo and Wen Wang, (2008) "A Duopoly Location Toolkit: Consumer Densities Which Yield Unique Spatial Duopoly Equilibria", The B.E. Journal of Theoretical Economics: Vol. 8 : Iss. 1 (Topics), Article 14.

[6] Meagher, Kieron and Klaus Zauner, (2005) "Location-then-Price Competition with Uncertain Consumer Tastes", Economic Theory 25(4), pp. 799-818.

[7] Meagher, Kieron and Ernie Teo, (2005), "Two-part tariffs in the Online Gaming Industry: The Role of Creative Destruction and Network Externalities", Information Economics & Policy, 17,pp457-470.

[8] Meagher, Kieron and Klaus Zauner, (2004) "Product Differentiation and Location Decisions Under Demand Uncertainty" Journal of Economic Theory 117(2), (August), pp. 201-216.

[9] Meagher, Kieron and Hugh Wilson, (2004), "Different firm size effects on wages for supervisors and workers", Economic Letters 84(2), pp. 225-230.

[10] Meagher, Kieron and Mark Rogers, (2004) "Network density and R&D Spillovers", Journal of Economic Behavior and Organization 53, (February) 2, pp. 237-260.

[11] Meagher, Kieron, H. Orbay and T. Van Zandt, (2003), "Hierarchy size and environmental uncertainty". In: M. Surtel and S. Koray (Eds.) Advances in Economic Design, Springer Verlag, Heidelberg, Germany, 2003, pp. 439-457.

[12] Meagher, Kieron, (2003), "Generalising Incentives and Loss of Control in an Optimal Hierarchy: The Role of Information Technology". Economic Letters, 78, 273-280.

[13] Meagher, Kieron, (2001), "The Impact Of Hierarchies on Wages", Journal of Economic Behaviour and Organisation 45, (August 2001) 4, 441-458.

[14] de Fontenay, Catherine and Kieron Meagher, (2001), "Returns to Scale in One-Shot Information Processing When Hours Count", Review of Economic Design, 6(1), 113-124.

[15] Meagher, Kieron, and Timothy Van Zandt, (1998), "Managerial Cost for One Shot Decentralised Information Processing", Review of Economic Design 3(4), pp303-328.

BOOKS

[16] Boedker C., Vidgen R., Meagher K., Cogin J., Mouritsen J., and Runnalls J. M. (2011) Leadership, Culture and Management Practices of High Performing Workplaces in Australia: High Performing Workplace Index. Funded by the Department of Education, Employment and Workplace Relations. Published by the Society for Knowledge Economics, October, 2011. 65 pages. ISBN: 978-0-9775436-3-2.

[17] Boedker C., Cogin J., Langford P., Meagher K., Mouritsen J., Runnalls J. M., Sheldon P., Simmons S. and Vidgen R. (2011), Leadership, Culture and Management Practices of High Performing Workplaces in Australia: Literature Review and Firm Diagnostics. Funded by the Department of Education, Employment and Workplace Relations. Published by the Society for Knowledge Economics, January, 2011. 168 pages. ISBN: 978-0-9775436-2-5.

REFEREED CONFERENCE PROCEEDINGS
[18] Meagher, Kieron, and Andrew Wait, (2005), "Delegation of decision making, competition and business strategy", Proceeding of the Australian Conference of Economics, 2005, ISBN 07340 26080, University of Melbourne September, http://gemini.econ.umd.edu/conference/ACE2005/program/ACE2005.html

[19] Meagher, Kieron, (1996), "Efficient Hierarchies Equivalence Under Differing Employment Regimes", Proceedings of the Australian Econometric Society Meetings 1996, Vol. 1: Economic Theory, W. Schorm, M. McAleer and P. W. Miller (Eds.), The University of Western Australia, Perth, 1996, pp541-566.

OTHER PUBLICATIONS

[20] Meagher, Kieron, (2004), "The Game Theory of Girls and Sport", Actuary Australia, Issue 92 (August), pp. 20-21.

WORKING PAPERS
[21] Anderson, Simon P. and Kieron J Meagher, "Choosing a Champion: Party Membership and Policy Platform", CEPR Discussion Papers No. 8941 (London), April 2012.

[22] Meagher, Kieron, Teo, Ernie G. S. and Xie, Taojun, "Socially-Optimal Locations for Symmetric and Asymmetric Distributions in the Hotelling Duopoly Model", May 25, 2010. Available at SSRN: http://ssrn.com/abstract=1615884 

[23] Meagher, Kieron, Arlene Wong and Klaus G. Zauner, "Shake Out and Uncertainty about Consumer Tastes", (June 2009). Presented at the University of Sydney.

[24] Meagher, Kieron and Arlene Chu, "Incomplete Contracts and Imperfect Competition: Public Private Partnerships". Presented at Organizational Economics Workshop, Sydney 2007.

[25] Ghosh, Arghya, Meagher, Kieron, and Ernie G.S. Teo "Full and Federal Integration of Asymmetric Nations". Presented at the Econometric Society Australasian Meetings, 2007. Available at SSRN: http://ssrn.com/abstract=1270478

[26] Meagher, Kieron and Andrew Wait, "Who Decides About Change and Restructuring in Organizations?" Presented at the Industrial Organization Workshop, Auckland University, 2004, Econometric Society Meetings, Wellington July 2008. Available at SSRN: http://ssrn.com/abstract=1271754

[27] Meagher, Kieron, H. Orbay and T. Van Zandt, "Market Contingent Managerial Hierarchies", presented at the Stanford Institute in Theoretical Economics, August 2004, and the Decentralization Conference, Northwestern University.

[28] Meagher, Kieron and Wen Wang, "Firm Organization and Market Structure: Centralization vs. Decentralization", (January 7, 2009). Presented at the 2nd Organizational Economics Workshop, Sydney, August 2008. Available at SSRN: http://ssrn.com/abstract=1324002

[29] Ghosh, Arghya and Kieron Meagher, "The Political Economy of Infrastructure: A Spatial Approach". Presented at the Econometric Society North American Summer Meetings. Available at SSRN: http://ssrn.com/abstract=694243

[30] Meagher, Kieron and Klaus Zauner, "Uncertainty in Spatial Duopoly with Possibly Asymmetric Distributions: A State Space Approach".

[31] Meagher, Kieron and Rowan Walshaw, "Vertical Integration and Capacity Competition in Electricity Markets". Available at SSRN: http://ssrn.com/abstract=1266387

[32] Meagher, Kieron, "Managing Change and the Success of Niche Products" Santa Fe Institute Working Paper 96-08-066, 1996. Presented at the Industry Economics Conference, ANU, July 1996. Available at: http://www.santafe.edu/research/publications/workingpapers/96-08-066.pdf
Research Papers
Co-editor Organizational Economics Proceedings
Co-organizer of the annual Organizational Economics Workshop